By Rotarian Daniel Smith
I bet you were wondering where the Susan B. Anthony dollar coin went? Well I found them, they are here in Ecuador, along with a strange looking two dollar coin.
Rotary has been working on podcasting for the district for over a year. About a month ago I decided to travel out of country to see how things are and to record Rotary stories. Such incredible things going on everywhere.
For six years I was a tour guide in Canada and Eastern Europe. It was just after the Berlin Wall came down and they called it "the wild wild East." It has been a decade since I have been out and wow – what a difference. It is so much easier and safer now.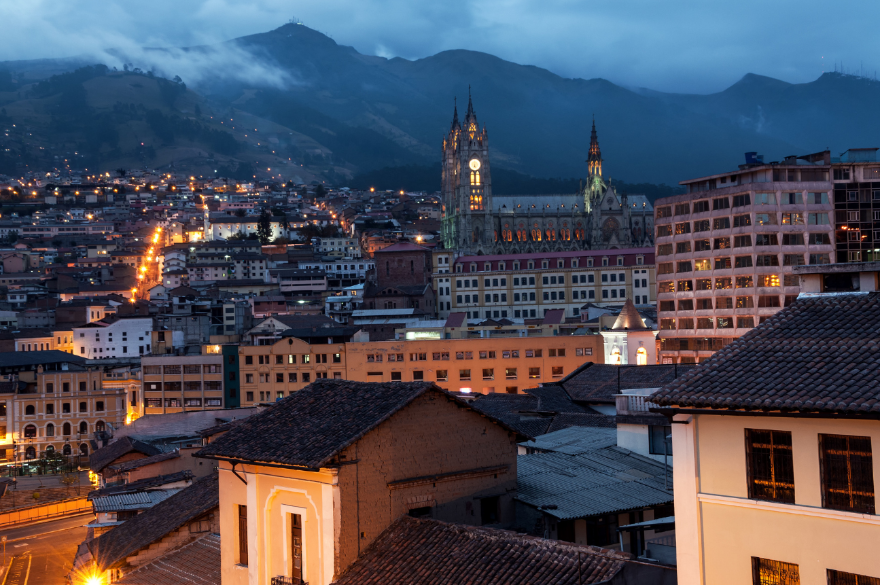 Took a while to get the phone, internet and banking worked out but now I can call, text, Whatsapp (required out here), and Zoom to the U.S. for free – and talk as long as I want. Have internet just about anywhere and I can take money out of any ATM for free with no exchange rate (Ecuador is on the U.S. dollar so there is no exchange rate here anyway). Glad to share the details on what I finally settled on if you like.
In Quito, the capital of Ecuador, you can take Uber everywhere, usually around $2 to $6 each way. Have chicken and fries for $1.25 and even have dinner delivered using Uber Eats (ain't never done that before). Peanut butter is $6.50 for an eight ounce jar so that's off my list. Buying things in the mall cost about the same as in Oregon, outside the mall it is really inexpensive.
So why Ecuador? The flight was $450 round trip from Portland. Apartments are $300/month and according to the U.S. State Department, Ecuador has the most Americans living in the country than any place in the world. Seemed an easy first step. Oh, and on the flight from Atlanta to Quito they actually served dinner.
The first stop is Quito, the capital. It sets about ten thousand feet up in the Andes Mountains. Coming from Roseburg at 300 feet it took awhile to adjust. Where I am staying is in Condado which is to the north and about 500 feet higher. Very steep. Very challenging to walk around.
Had an adventure the other day. Took an Uber to Nono which is a little town even higher in the Andes. They call it the Cloud Forest. It's famous for hiking and waterfalls (in case you haven't seen any lately). Nono is where people from Quito drive for a day trip. The watch word is "drive". Got there and discovered there is no way to get an Uber or a taxi back to town. There is, however, a bus at 4:00, the last bus for a week (you see, Nono is only open on the weekends).
After hanging out for the day along comes this disco bus. Flashing lights, loud music and tour bus style padded seats. Every time the bus stopped the mirror ball would start and the light flashed a rainbow of colors. The price, one dollar, entertainment included.
There are some really great Rotary projects here that I would like to share with you. One is a nutrition and reforestation project in the Amazon. Another is bamboo houses for earthquake victims on the coast. Cataract surgery, dentistry (our own Florence club came down and conducted a clinic in 2017). Peace through music, dance, water projects, indgenious crafts and tourism to name just a few. Next week I would like to share the Amazon project with you. It is being developed by the Rotaract club in Quito wit some very experienced NGO's who have been working in the Amazon for years. It is an incredible project that provides nutrition, income and reforestation to indigenous people living there. Using satellites you can actually have a tree planted and watch it grow.
If you know of any projects here, please let me know and I will try to get there and do a story on it for you. We have a whole team of experienced podcaster's in the district so if you have a story you would like to share, please let us know. You are our top priority. team@voicesofrotary.org.  Next week it's off to Cuenca.